We have recently elected our new Eco Committee, our new members are as follows:
Class 3 - Ava Williams
Class 4 - Mason Ellis
Class 5 - Finley Greenwood
Class 6 - Juhayni Islam
Class 7 - Lily-Ella Davies-Shaw
Class 8 - Evie Rice-Jones
Class 9 - Manon Butler
Class 10 - Luke Brownbill / Ethan Jones (a tie!!!)
Class 11 - Dominik Barbus (Treasurer)
Class 12 - Cameron Ellis (Vice Chairperson)
Class 13 - Abbey Mayers (Chairperson)
Class 14 - Alex Earlam (Minutes Secretary)
Thank you to all pupils who took part in the Eco Code homework. During our next few meetings we will be looking at the winning entries from each class and will be using the ideas to help us to write our brand new Eco Code.
Once it is completed, we will upload it to this page on the website.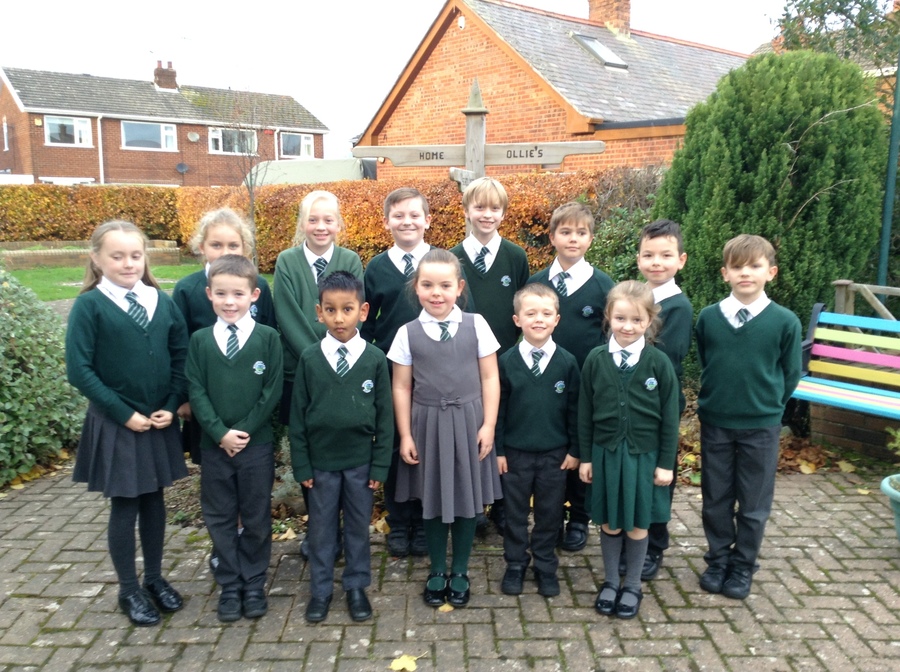 Introducing our brand new Eco Code! The Eco Committee have met recently to choose our new Eco Code. After having taken in entries from each class in school, the committee decided on one homework task as their favorite which was produced by Alfie Lane in Year 3. Da iawn ti Alfie, we hope that you enjoy using your stationery which was given to Alfie as a prize.
Alfie proudly shows off his winning Eco Code, helped by our Eco Committee Chairwoman Abbey. Da iawn Alfie!
As part of our work on trying to reduce dog fouling in our local area, the Eco Committee have been out and about taking photographs of dog waste on the pavements near to school. We have reported the information to Flintshire County Council using their 'Doggy Do' App.
On July 10th we welcomed Becky from Size of Wales into school. Size of Wales is a charity whose aim it is to protect an area of rain forest which is twice the size of Wales. Becky worked specifically with Year 4 and 5 and their work fitted perfectly with their topics on Brazil and sustainable development. Thank you Becky for your time today. Please have a look at the pictures below and if you want to find out more about their work, why not have a look on their website: http://sizeofwales.org.uk/
During the morning of June 30th, the Eco Committee met with Ruth Cartwright from 'Streetscene' (Flintshire County Council). She spent some time talking to the committee about the work of 'Streetscene' and their current initiatives which are designed to reduce dog fouling in the authority from, issuing fixed penalty notices of £75.00 to poster campaigns to encourage people to clean up after their dog. We have leaflets in the reception area of school which explain how you can report dog fouling in our area to the local authority and also some dog waste bags which you can help yourself to. The Eco Committee will continue to work on their dog fouling initiative and they hope to involve all pupils in their work in September.
ECO WEEK ~ June 12th to 16th 2017
This week we are celebrating Eco Week. We have invited many organisation into school to support our work in developing our knowledge of the environment on a local and global scale.
Many thanks to the following organisations, many of which have willingly given their time for free
Dogs Trust
North East Wales Wildlife
SARN
Redrow
Waterwise
We have included some photographs below for you to have a look at to show our work this week
Year 6 had fun with staff from Redrow designing and naming a new housing development. They had to think about where to place the houses, cycle paths, open spaces and parks!
Year 3 enjoyed a visit from Bethan Richardson (Dogs Trust). They have been learning all about responsible dog ownership!
Year 6 have also been learning all about responsible dog ownership with Bethan from Dogs Trust - thank you Bethan!
Year 3 and 4 enjoyed a visit from Mr David Evans (SARN). They used Lego and electrical components to learn all about sustainable ways of producing electricity.
Year 2, 5 and 6 have enjoyed Pond Dipping sessions this week with staff and volunteers from North East Wales Wildlife. Thank you to Kate and her team.
We found various creatures in the ponds from tadpoles to froglets to tiny frogs. We also found water boatmen and mayfly and caddis fly nymphs. Some groups event found some tiny newts. Have a look at photographs of Class 14 having lots of fun!
We are pleased and delighted to announce that we have been awarded Platinum Eco Schools Status for the third time after receiving confirmation on Tuesday 28th February.
Thank you to the Eco Committee for all of your hard work and dedication to the role. Thank you also to Mrs Wilkie and Miss Braid for their help with the Eco Committee this year.
This is what Catrin Hughes, Education Officer for Keep Wales Tidy (Eco Schools), had to say about our application:
Dear Eco Committee,
Thank you for submitting your application for Platinum renewal. I am pleased to see that the Eco-Schools process is still running effectively in your school and that you have continued to progress with new projects and ideas. We enjoyed reading about your project to reduce food waste, it's fantastic how you have managed to involve the whole school and have a big impact, this is really impressive.
I am delighted to confirm that you have retained your platinum Eco-Schools status and wish you every success with this year's projects.
Being awarded Eco-Schools Platinum status is a fantastic achievement. The school, staff and pupils should feel proud of their hard work and commitment.
Congratulations once again!